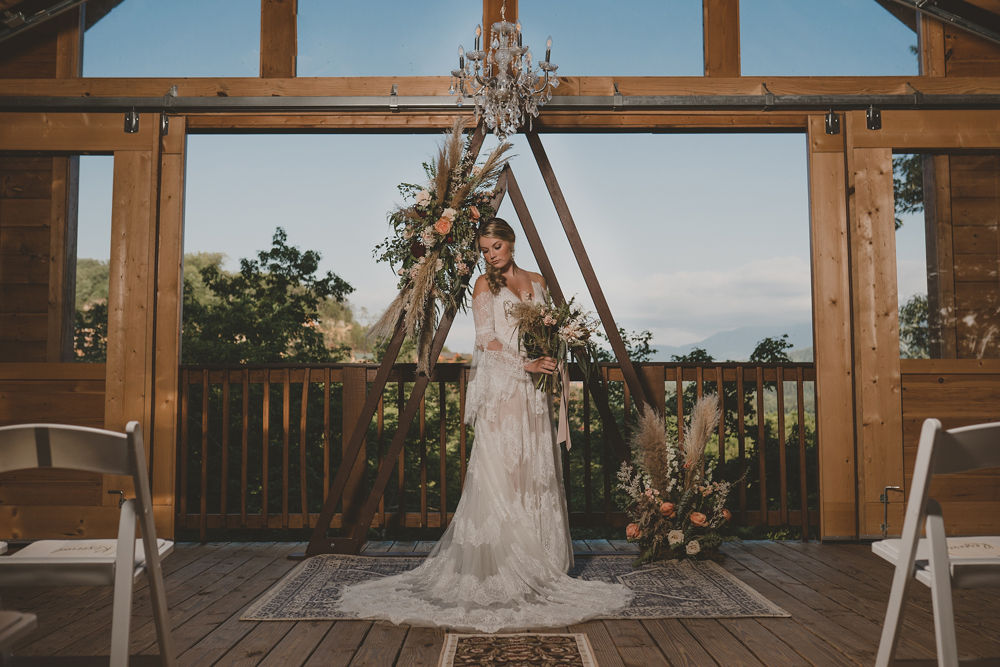 Sky View Pavilion
&
Sky View Lodge
Tucked away on its own private section of the resort, Sky View is a heartwarming wedding destination! Accommodating up to 70 guests (with tables, chairs, and linens included), Sky View is perfect for the couple dreaming of a more "intimate" wedding.
​Sky View is great for both your ceremony and reception! Let us "flip" the space for you while you and your significant other have your portraits taken and your guests enjoy Cocktail Hour in the cabin! Based on table sizes and spacing, this set-up is limited to 50 guests or less.
Thinking something different? Check out The Banquet Room or Mountain View Falls for your reception!  Both of these options are limited to 90 guests or less due to the larger spaces available.
Includes:
*Multiple Day Access!
70 White Padded Garden Chairs
8 5ft Round Tables
1 Sweetheart Table
Dance Floor
3 Cocktail Tables
3 6ft Rectangle Tables
Linens
Glass Garage Doors  for built-in rain plan
*1 night stay in a Honeymoon Cabin
Vendor Recommendations
*Full Wedding Package Only*
​
It's your Big Day – We make sure you get to enjoy it!
With our Sky View venue & lodging package, we take the stress out of the wedding timeline. With Sky View, you'll stay right next door and have access to your venue from the moment of check-in until 9am the day you leave! Don't worry about cramming decorating and departure into the Big Day like other venues. At Parkside, you're invited to go at your own pace. Use the space for your rehearsal or a welcome dinner, have some drinks with your friends as you decorate the day before, host a brunch, and definitely don't let the festivities get cut short by venue time limits! With Sky View, you're free to party into the night, and clean up the next day if you want!
Check out Sky View Lodge below
Sky View Lodge, located only steps from the Sky View Pavilion venue, is a charming 5 bedroom/5 bathroom cabin with 3 levels. Featuring a total of 3000 square feet (plus deck space), this cabin will sleep a total of 14 guests and has parking for approximately 6 vehicles, with additional parking available within Parkside Resort. Sky View Lodge and Pavilion are tucked away making for an incredible private Wedding Weekend for you and your guests!
LINDSAY, Sept. 2018
We used Sky View Lodge and Sky View Pavillion for our wedding location and it was absolutely perfect for our small, intimate wedding!!! It was a perfect, secluded area that met all of our needs. Parkside Resort staff were friendly and very accommodating and our Event Coordinator, Lauren, was simply amazing. We couldn't have asked for a better resort, location and team. Our guests loved the resort so much, that they are planning to reserve their own stay for next year.
Thank you Parkside Resort!
-via Wedding Wire
LAUREN, June 2018
We had our wedding and reception at the Sky View Lodge and Pavilion at Parkside, and it was the best decision we could have made! The lodge was a convenient place for us to stay and get ready for our wedding, and Parkside gave us the freedom to decorate and set up the pavilion the way it worked for us. Everything was beautiful and perfect! You have to rent the lodge to rent the pavilion, but it's totally worth it.
-via Wedding Wire
Have more guests to accommodate?
Not a problem! Simply vist ParksideResort.com to explore our amazing cabin selection!
Explore Other Parkside Venues